American Aluminum EZ Rider K9 Police Vehicle Dog Kennel Transport Insert System and Cargo Containment Unit for Cars Trucks and SUVs, Black or Aluminum Finish
Product Description
American Aluminum EZ Rider K9 Police Vehicle Dog Kennel Transport System for Cars Trucks and SUVs i
ncludes the insert, window guards, door panels, rubber mat , dome light, and the finish of either black matte or aluminum.
Fits the following vehicles:
Charger 2005-2017
Chevy 4 dr Silverado 2004-2017
FCV 1998-2012
Dodge Crew cab 2004-2017
Dodge Quad cab 2004-2012
Durango 2004-2017
Escape 2008-2014
Expedition 1998-2017
Expedition EL 2006/2016 (Please contact us about the 2017)
Explorer 2003-2010
Interceptor SUV 2001-2017
Interceptor Sedan 2012-2017
Ford F150 2004-2017
Ford F250 2004-2017
Ford F350 2004-2017
Impala 2000-2017 Police Pkg Only
Jeep Grand Cherokee 2003-2014
Jeep Cherokee 2003-2015
Jeep Liberty 1998-2014
Suburban 2000-2017
Tahoe 2000-2017
The Original E/Z Rider K9 Platform unit is fully contoured for vehicle specific, perfect fit. Front Panel made of mill finish aluminum, fully welded with double-walled front panels and Polycarbonate head rest protectors and round vertical bars for maximized visibility and strength. Front sliding emergency escape door on sliding track with spring loaded locking system.
Seamless Base Pan fully welded and specific fit contouring to allow canine leg safe ease upon entry and exit. Base extends door sill to door sill utilizing all available space and allowing for easy rinsing and cleaning without damage to vehicle. Canopy with punch design allows for maximum airflow from vehicles with existing factory rear A/C and heat. All platform units include perfectly contoured Window Guards and Door Panels.
Window Guards are powder coated black and hinged on bottom to allow for easy cleaning and maintenance. Door Panels are contoured, smooth, flat design for ease of install. Complete Hardware kit with installation instructions included.
Front Panel made of .125 mill finish aluminum, fully Tig welded

Double-Walled designed front panels

Front sliding door with 1.4" radius punched holes

Sliding track with spring loaded system

.125 polycarbonate head rest protectors

¾" round vertical bars on front panel

Back Panel made of .125 mill finish aluminum

Fold down window design with .125 Aluminum with 1.4" radius square punched holes

Specific fit contouring base is required to allow for leg safe ease on entry and exit

Seamless base pan constructed of .125 mill finish aluminum

Base Pan extends door sill to door sill allowing for optimizing the entire rear seating area, also allowing for rinsing and cleaning without damage or leakage into vehicle

Canopy constructed of .080 mill finish aluminum

Door Panels constructed of .063 mill finish aluminum
Divider Option
Available for most E/Z Rider platform units, our E/Z Divider allows you to convert your existing platform unit into a dual canine transport containment system. The divider is removable and fully adjustable. Constructed of aluminum with a black powder coated center door and sliding latch to allow access to both sides.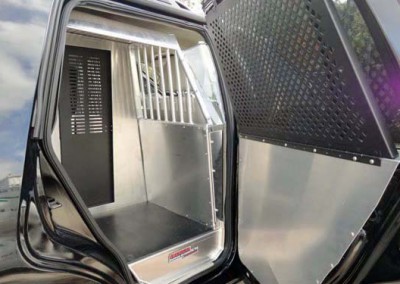 Water Dish Option
Our E/Z Spill Proof Water Dish is the perfect accessory to any and all of our K9 transport systems. Constructed of mill finish aluminum with 1 gallon water capacity, comes with a mounting bracket. Dish comes with drain plug and dish slides on and off mounting bracket for easy use and cleaning.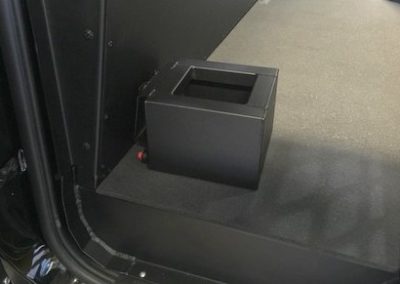 Rescue Door Opening Option
Includes 2 (One Recessed Button) transmitters. Both are the same size. One has a pouch that can be worn on a utility belt. One has a ring to be placed on key chain.
The E/Z Rescue Remote Door Opening System allows the Officer to unlock, open and release the K-9 via remote transmitter. Should the officer be outside of the patrol car and need immediate assistance, his K-9 partner is a push of a button away. E/Z Rescue comes complete with main receiver & transmitter, actuator motor, small keychain remote, and hydraulic lift cylinder. Installation instructions and free technical support are included.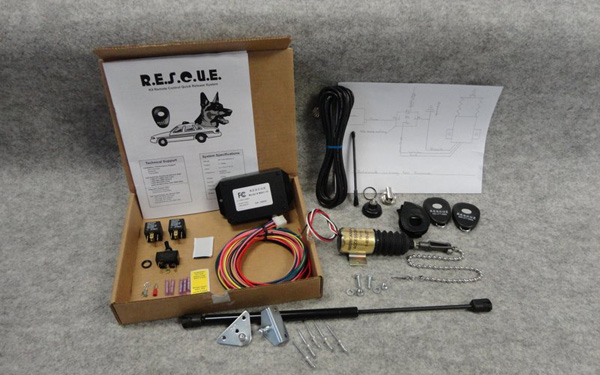 Cool Guard Heat Alarm System and Pager Options
Protect your department's investment of your canine partner with our in-vehicle E/Z Coolguard Temperature Monitoring & Alert System. The lethal temperature for an average size Law Enforcement K-9 is 103 to 107 degrees for approximately 5 minutes.
Our E/Z Coolguard gives you peace of mind and will self-activate to rapidly cool your canine when dangerous inside vehicle temperatures are detected. E/Z Coolguard comes complete with control module, 2 temperature selections (87 or 95 degrees), automatic dual window drop, high speed fan, fan guard and wiring harness, manual on/off override switch, and unique horn alarm patterns, status light indicator, and self-diagnosing alert. Installation instructions and free technical support are included. Full 1 year warranty against any defects.
Sold separately as an additional option for our E/Z Coolguard, the Pager ensures that should you be outside of hearing range for the horn alarm, you will be notified via page that your Coolguard system has been activated. Installation instructions and free technical support are included. Full 1 year warranty against any defects.